Selection of contributions and publications
Building with Nature® book
All views, ideas and plans of Ronald E. Waterman are assembled in a publication entitled 'Integrated Coastal Policy via Building with Nature®'. The book can be regarded as a master piece of documentation in the field of Coastal Zone Development & Maintenance. It represents both national and international a milestone in the history of the development of Delta Technology.
See for more details
Master piece
.


Coast and Waterway Development
Principal designer of the so-called 'Waterman Plan' for land reclamation through integrated coastal policy via Building with Nature in the Netherlands.
Design of a multi-purpose canal in South-Holland for fresh water supply, transport, tourism and recreation, with special attention to waterfront developments.

Co-designer of a number of specific
Dutch coastal protection and development plans:
- Scheveningen - Hoek van Holland

- Slufterdam & Maasvlakte - 2
- IJmuiden aan Zee/Seaport Marina IJmuiden/Kennemerstrand
- Seaport Marina Katwijk c.a.



Building with Nature
Contributions to several international congresses in the field of large and small scale land reclamations based on the principle of Building with Nature, including coastal zone management;

Several publications (scientific journals and books) in the field of civil engineering with regard to:
Land reclamation via Building with Nature;
Integrated multifunctional sustainable coastal zone management and development;
Environmental-friendly storage and processing of contaminated sediments and other types of wastes;
Water Resources Management;
Energy Supply;
Plan Development Management Systems.
Abstract of the Ronald E. Waterman soon-to-be-published book 'Integrated Coastal Policy via Building with Nature' in TERRA ET AQUA, June 2007 edition. See this PDF-document:
TERRAetAQUA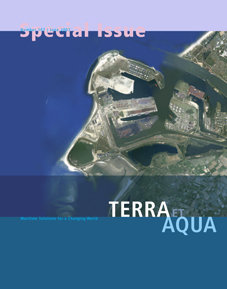 Relation Space-Economy-Environment

Several publications (scientific journals and books) in the field of:


Chemical engineering (micro-analytical chemistry, inorganic chemistry, polymer chemistry, process characterization, thermodynamics and environmental engineering);

Integrated multifunctional sustainable coastal zone development and management, using methods that at the same time strengthen the economy and improve the environment, while ensuring an optimal use of the available space; port development;


Sustainable and multifunctional use and development of inland waterways and water fronts;

Absolute necessity of an adequate infrastructure focussing on all modes of transport of persons, goods and information.